Falconry Experience and Wildlife Tour in Dubai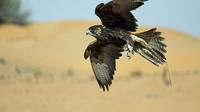 Address: United Arab Emirates
This interactive wildlife experience introduces you to the vast Arabian Desert, Dubai's native animals and the UAE's ancient tradition of falconry. Learn about the history of falconry, a practice that uses trained falcons to hunt prey, and discover why it's so important in Arab culture. You'll get to interact with the falcons and try your hand at Falconry yourself! Then, spot wildlife such as Arabian Orxy and Gazelle from the comfort of a luxury Range Rover or enjoy an open-roof vintage Land Rover, a mode of transport used extensively in 1950's desert expeditions on a tour of the Dubai Desert Conservation Reserve, the most carefully preserved wildlife area in the UAE, followed by a camel ride through the desert.
This small-group tour is limited to 16 people, ensuring you'll receive personalized attention from your guide.
You'll be picked up from your Dubai hotel in the morning and taken to the grounds of a local royal family members desert retreat for your interactive falconry experience.
During the demonstration, you'll learn all about the ancient practice of falconry, in which trained falcons are used to hunt prey such as hares and various types of birds. This centuries-old hunting tradition is an integral part of desert life and an important part of Arab heritage and culture. In fact, The UAE reportedly spends more than 27 million dollars each year towards the protection and conservation of wild falcons!
Your guide will go over both ancient and modern training techniques, and explain the history of falconry, which was originally used to supplement the Bedouin diet with meat (Bedouin refers to the Arab nomadic tribes of the Arabian, Syrian, Nubian, and Sahara deserts). You'll then get to observe the world's best-trained falcons and even try your hand at swinging the lure or flying a falcon yourself!
After your falconry experience, take a guided tour of the Dubai Desert Conversation Reserve, the most carefully preserved wildlife area in the UAE and Dubai's first national park. Travel through this vast wildlife reserve in the comfort of a luxury Range Rover or your open-roof vintage Land Rover, keeping an eye out for animals such as Orxy, Gazelles and many other native desert flora and fauna.

When you return to the camp, enjoy a freshly prepared local snack such as chabab (Arabic pancakes) or Ragaag (Fresh Arabic bread). If you wish, you can also ride a camel through the desert! Afterwards, you'll be taken back to your Dubai hotel, located about an hour away.
A portion of ticket sales goes towards local animal conversation, so you can feel extra good about participating in this Dubai wildlife experience.