Back
Expert Guide to Istanbul
To quote writer and poet Alphonse de Lamartine "If one had but a single glance to give the world, one should gaze on Istanbul." Don't let the political unrest in Europe dissuade you from a trip to Istanbul, a city that will fire your imagination long after you've left. Minimize the stress and logistics of navigating a new city by using local experts to guide you. Here are some of our suggestions to experience the city that bridges Europe to Asia.
Istanbul
Private Tour: Istanbul Sightseeing Including Museum of Innocence, Pera Museum and Çukurcuma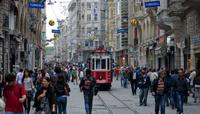 Immerse yourself in bygone Istanbul on this engrossing private, half-day tour. With a knowledgeable guide, visit Pera Museum to see its wondrous Ottoman artworks, including Osman Hamdi Bey's celebrated 'Tortoise Trainer', as well as ceramics, tiles and ancient Anatolian artifacts. Then, explore the quaint Çukurcuma district where antique shops and museums reign supreme. Visit some of the best shops and peek inside the quirky-yet-magical Museum of Innocence, a temple to late 20th-century Istanbul founded by author Orhan Pamuk. This private tour ensures you enjoy personalized attention from your guide.
Start with a pickup from your centrally located Istanbul hotel. Board your air-conditioned minivan and receive a blue-and-white 'evil eye' token as a welcome gift from your guide.
First, visit Pera Museum, one of Istanbul's premier museums. Occupying a Victorian building, this modern gallery houses fascinating exhibitions of everything from Ottoman artifacts to Orientalist paintings.
View the showpiece works and hear more about them from your guide. Ponder artworks from the late Ottoman era including the much-loved Tortoise Trainer by Osman Hamdi Bey. Take in the visiting exhibitions, and see the displays of Kütahya ceramics and Anatolian weights and measures — some from the 7th century BC — all testifying to the age-old skills of Turkey's craftspeople.
Next, head for Çukurcuma, the characterful antiques district where the winding streets are fringed with vintage shops that offer a true flavor of old Istanbul. With pointers from your guide, visit some of the best antique shops, starting with Minyatür Denis Eskisi. Delve into this maritime shop to browse its quirky naval items, such as binoculars, crates and compasses.
Continue to the Museum of Innocence, founded by Nobel Prize-winning author Orhan Pamuk. Inspired by his 2010 novel of the same name, set in 1970s Istanbul, this genius museum displays everyday items from 20th-century Istanbul. Peer at the clocks, toys and postcards, and be whisked back to this recent, but seemingly far-distant era.
With your nostalgia buttons well and truly pressed, return to your hotel where your tour ends.
4-Night Cappadocia Tour from Istanbul Including Flights and Istanbul Sightseeing Tour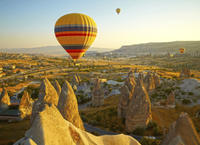 Experience the best of Istanbul and Turkey's Cappadocia region on this 4-night tour with hotel accommodation and internal flights included. Visit Istanbul's top Byzantine and Ottoman landmarks, and be enchanted by Cappadocia's surreal landscapes and rock pinnacles, caves and villages on two days of sightseeing, visiting UNESCO-listed Göreme Open-Air Museum and Derinkuyu Underground City. Four nights' accommodation in Ottoman-style hotels, select meals, airport transfers and an optional hot air balloon ride offer the finishing touches. Plus, this small-group tour is limited to 12 people for an intimate experience.
Your 4-night, small-group experience includes a full-day tour of Istanbul's top attractions before you fly to Cappadocia, a stunning region of Turkey famed for its rock cones, caves and villages. Spend two days admiring the otherworldly landscapes before flying back to Istanbul on Day 5, where your tour ends.
Stay in an 'S' Class (Special Class) hotel — hotels categorized as offering traditional Ottoman charm — in Istanbul for the first two nights, and spend the other two nights at a beautiful, S-Class cave hotel in Cappadocia. Return domestic flights between Istanbul and Cappadocia, daily breakfasts and other select meals are also included. You also have the option of upgrading to include an early morning hot air balloon ride over Cappadocia's landscapes on Day 4.
This information was accurate when it was published, but can change without notice. We are not responsible for any loss suffered in connection with use of the content or services available via the site.