4-Day Bali Adventure: Ayung River Rafting, Mt Batur Biking and Jungle Trekking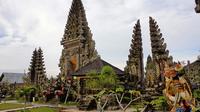 A combination package of mountains, river and nature, going behind the scene to explore Bali, as it used to be. The area surrounding Ubud makes the perfect setting a soft adventure. Tropical rainforest and distant paddy fields joins you all the way, on the 2 hour rafting trip down the Ayung River. On mountain bikes you will decent from the great Mt. Batur, feel the wind in your hair while small villages and daily life passes. The vast forest around Lake Buyan offers the ideal place for jungle trekking. By traditional canoe we sail across the Lake to escape into the wild.
Day 1: South Bali – Ubud (47 Km/6 Hours) (L)
After breakfast, we pick you up at the hotel to take you to Ubud to exhilarating 2 hours descent of 13 kilometers rafting down the famous Ayung River.

You will paddle over 25 rapids, pass numerous waterfalls, fern filled canyons, sleepy grottoes, through narrow gorges and swift moving torrents. During the voyage you will see nature run wild, untouched tropical rainforest greets you on every side, the scenery is always changing, the rafting continuously fun. We provide dry bags for your camera. At the end of the trip, buffet lunch is served in the Restaurant located on the bank of the Ayung River. There are shower facilities available for you to use before we take you back to your hotel.

You return in the early afternoon and you have plenty of time left for further private activities. Dinner is at your own arrangement.

Overnight: Rama Phala (Deluxe)

Day 2: Ubud – Mount Batur Cycling (80 Km/06 Hours) (B+L)
After breakfast at the hotel, we will pick you up from the hotel to experience these stunning downhill trails from Batur village to Ubud.

The starting point is near the mountain area of Batur with nice and cool breeze on the Balinese Garden and the coffee plantation, where you could experience the most wanted Luwak Bali coffee. Prior to the start of cycling, safety talk is commenced. Frequent stops throughout the trails will provide you with a day of education and fun. Concluding your day trip we will provide with lunch in Ubud before returning to your hotel. Please wear comfortable clothing, sport shoes, hat/cap and sunscreen.

Transfer back to your hotel after today's fun and excitement. Dinner is at your own arrangement.

Overnight: Rama Phala (Deluxe)

Day 3: Ubud – Jungle Trekking (70 Km/06 Hours) (B+L)
Start your day with an early breakfast at hotel, you will be picked up from your hotel to go up to Bedugul area.

Following in your guides footsteps for 2-hour trekking you will take on a trip though lush rain forests and traverse areas where only Mother Nature permits entrance, in order to experience indigenous species of birds and plants. Emerging from beneath a canopy of dense foliage, you will come upon the scenic still waters of Lake Tamblingan and be transported across via a traditional dugout canoe. Lunch is served at a local restaurant before returning to the hotel. Dinner is at your own arrangement.

Overnight: Rama Phala (Deluxe)

Day 4 Ubud – South Bali (47 Km/90 Minutes) (B)
After breakfast at the hotel, we take you back to your hotel in South Bali, or to the airport for your onward flight departure.